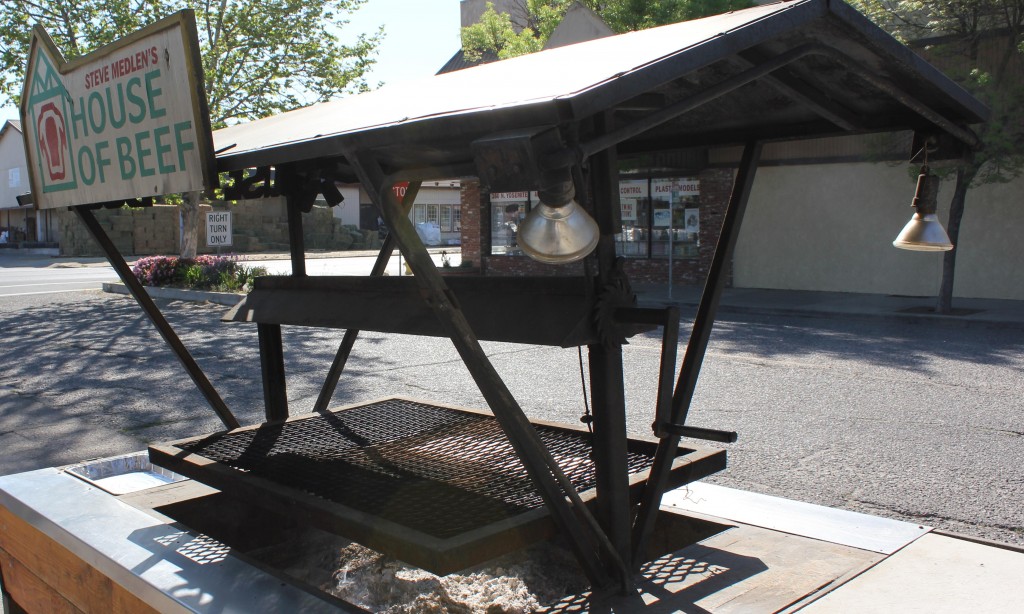 Current as of June 1, 2014

We pride ourselves in serving U.S.D.A. choice grade meats. Our products can be seasoned or marinated with any of our special house recipes. Our vegetables and salads are homemade from fresh, high quality products. Our custom made portable B.B.Q's make it easy for us to bar-b-que and prepare meal at your event location.
The following prices are guidelines for events for 100 people and over. The price per person varies according to the actual event. Quotes on smaller catered events or any question you have please contact us at your earliest convenience and we will be happy to help you. The menu below is available to you as "The House Special" or "The Deluxe". Disposable paper plates & paper napkins, and plastic knives, forks & spoons are also included.
We are anxious to help you with any of your catering needs, confident that we can be just what your looking for and proud to be of service to you. We are waiting to hear any ideas or specialties of your own that we can prepare for you and your special event. Questions or comments can be answered at your earliest convenience (209) 847-5991.
Medlen's House of Beef quality that stands behind its name!
MENU

"The House Special" Includes: Chili or baked beans, green salad and French bread.
"The Deluxe" includes: Choice of side dish, vegetable, salad and bread.
" Special"
 "Deluxe"
Boneless Beef Tri-Tip & Boneless Chicken Breast
 $18.50
 $19.50
 per person
Boneless Beef Tri-Tip
 $17.00
 $18.00
 per person
Boneless Marinated Chicken Breast – We offer: Teriyaki and Sun Dried Tomato Flavored Chicken

 $15.00
 $17.00
 per person
14oz. New York Steak
 $22.00
 $24.00
 per person
14oz. Rib-Eye Steak
 $23.00
 $25.00
 per person
9oz. Filet Mignon Steak

 $26.00
 $28.00
 per person
Boneless Prime Rib
 $24.00
 $25.00
 per person
Salmon Steak
 $19.00
 $21.00
 per person
Beef Rib, Pork Rib & Chicken Combination
 $19.0
 $21.00
 per person
Cold Deli Meat & Cheese Platters, Vegetable Platters and Hors D'Oeuvers

Call For Quote!

 

Get it N' Go Special: Take $2.00 per person off above meals when you pick up at the House of Beef!
MEAT SELECTION A La CARTE' (choice of one)
Boneless Beef Tri Tip
$5.00 per person or $25.00 each

Boneless Marinated Chicken Breast

$4.00 per person
Baby Back Pork Ribs

$5.00 per person
Beef Tri Tip & Boneless Chicken Breast

$9.00 per person
SIDE DISH (choice of one of the following)
Potato:
Cheddar Scalloped Potatoes, New Red Potatoes with Butter & Basil
Pasta:
Raviolis, Rigatoni, Fettuccini Alfredo and Spaghetti
Beans:
Chili, Baked Beans
Rice:
Pilaf, Wild Medley

VEGETABLE (choice of one of the following)
Italian Green Beans w/Bacon
Long Green Beans

Corn on the Cob (in season)
Glazed Carrots
Summer Squash Medley
Broccoli w/Cheese Sauce
SALADS (choice of one of the following)
Garden Green
Caesar
Spring Mix
Coleslaw
Potato
Macaroni
Spaghetti
Broccoli
Tomato, Cucumber & Onion
Fresh Fruit Salad ($2.50 per person extra)
BREADS (choice of one of the following)
Garlic Bread
French Bread
Sliced Multi-Grain Breads
Assorted Dinner Rolls
French Rolls
DESSERT & HORS D'OEUVERS
These items are available at an additional charge. They are prepared fresh upon request. Please call for quote and selection. Example: Cakes/Cookies/Brownies, Cheese Cake/Tiramisu, Fruit Cobbler or Relish, Vegetable or Cold Deli Trays, Party Snacks/Nuts, Seafood Cocktail, Assorted Sausages and Cheese Platters, Meat Balls, Party Wings.

SUBSTITUTIONS
You may substitute the main dish for an additional salad or substitute the main dish and vegetable for two additional salads. We are always willing to work with you and satisfy your needs. Prices may be subject to change with substituting.
ADDITIONAL SERVICES & PRICES

China with a Buffet Line –


Call For Quote

Sit-Down Waitress Service –


Call For Quote

Linen Tablecloths – 

$8.50 each

Linen Napkins – 

$.50 each

We can also assist you with full beverage service, table and chair rentals, as well as tents, awnings and banners. We can also help with beverage fountains, sites for outside events and hall rental.
Thank you for considering us to cater your next event!!!
House of Beef Catering Price List
Medlen's House of Beef
201 North Third Avenue ~ Oakdale, Ca 95361 ~ (209)847-5991
Save