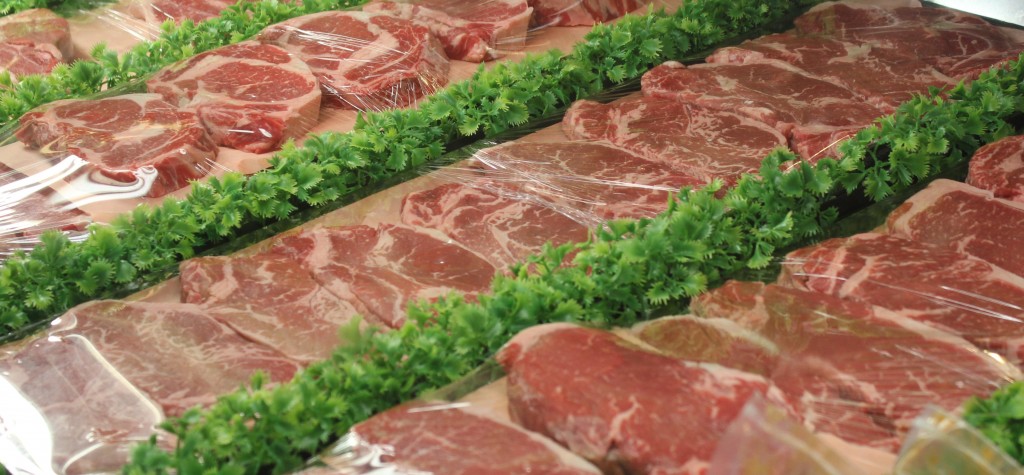 We Offer:
Processing – We provide custom cutting your way for your beef, pork or lamb!
Smoking and Curing – We will smoke your ham and bacon  here at our facility  in our own mico-processor. We also smoke turkeys and fish!
USDA Approved – Custom order USDA Choice Beef!
Half/Hind Quarters – 1/2 Beef weighing approx. 300lbs starting weight or Hind Qtr weighing approx. 150lbs start weight!
Use our convenient House of Beef  cut sheet so you can fill out and call us with your preferences- Cutting Instructions
Wild Game Processing
Wild Game Processing Prices 2012
| | |
| --- | --- |
| Wild Hogs – Deer – Antelope | $110.00 |
| Elk and Bear | $210.00 |
| Skinning charge: | |
| Deer | $40.00 |
| Elk | $65.00 ($75.00 if cut into quarters) |
| Bear rug | $100.00 |
| Capping Sheep | $60.00 |
| Contamination Fee: | |
| Deer | $25.00 |
| Elk or Bear | $60.00 to $75.00 |
| Extras: | |
| Add Beef or Pork to Ground meat | Beef $2.99 lb  Pork $2.49 lb |
| Jerky | $12.00 lb on finished weight |
| Salami | $3.50 lb on finished weight |
| Snack sticks | $8.50 lb on finished weight |
| Sausage sticks | $8.50 lb on finished weight |
| Sausage links | $2.99 lb on finished weight |
| Sausage flavors: Apple, Cheddar, Italian, Linguica | |
| Sausage will have pork added by half | |
| Jerky start weight will shrink by 2/3 | |
| Salami will have pork added by 1/3 | |
| Snack sticks will shrink by 50% | |
| Smoked Fish | |
| 0 – 10 lbs | $25.00 |
| 11 – 20 lbs | $35.00 |
| Over 20 lbs | $1.75 lb |
After business hours: call "Butch" at 209-765-3027